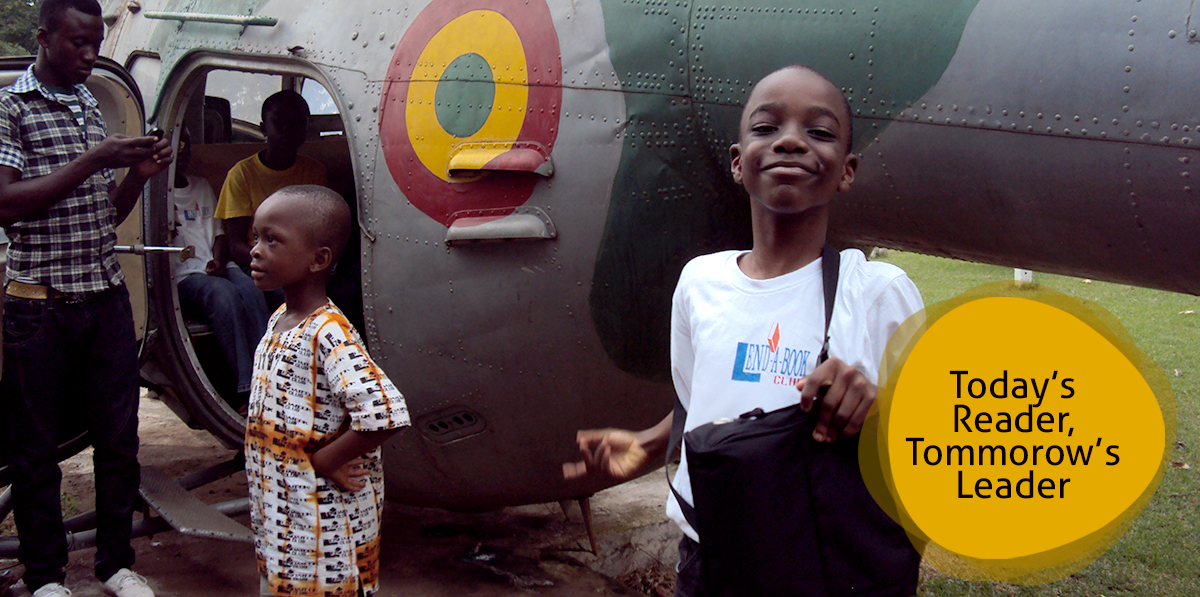 Welcome to the Lend-A-Book Club where children get empowered through reading! It is a fascinating ministry that reaches out to children through reading and mentoring – a place to mobilize, motivate, and use contemporary methods to draw children closer to each other and to God. We emphasize on values of love, self-respect, integrity, self-discipline and accountability. In addition, the children learn about their immediate environment and culture as well as those of other places. These activities boost up their confidence and assist in developing them for future leadership. Many of such children have moved on into higher institutions and work. They are being effective in whatever they're doing and impacting their world!
A community-based youth reading club called "Lend-A-Book Club (LAB)" established in Obuasi -Ghana and its environs. LAB is focused on motivating children to read wide, become mindful of social responsibilities, gain confidence and become future leaders. It is expected that LAB's activities would impact positively on the education and general well-being of children in the community. The idea behind this club is to present and make story books available to the youth especially within the remote areas of the community so that every child can get a book to read at any point in time. LAB is working towards helping to make certain our children have reading and leadership skills to prepare them do well in life. Thanks for welcoming the idea!
The objectives are to assist the youth to:
Develop reading and writing skills
Become creative & develop artistic talents
Gain confidence and self-respect
Love to help the needy, aged and the disadvantaged
Have respect for Adults, the Community, the Environment and 'Time'
Partnership
We seek partnership with youth empowerment and educational groups. You are welcomed to grow and sustain LAB. Discuss issues to promote self-worth, respect, responsibility & leadership in the youth.
Donate Books
We accept used books, DVDs, magazines, posters, games, toys and any inspirational item. With your help, these little ones will be supported to spend their time well by reading and be guided to become responsible children and leaders!
YOUR support will be greatly appreciated – the ones you think are 'little' are big to us. It could be an idea or a visit when you come around just to share life experiences with us. A few family and friends have been assisting in this manner and to them we say THANKS!
Subsequent to the primary methods of reading the children participate in special programs including:
    

– Spelling competition
– Reading clinic
– Sports
– Health campaign
– Pen pals
– Student exchange program


– Poetry
– Proverbs challenge
– Play and learn fun games
– Field trips
– Cultural items exchange program
– Any form of art
The LAB is a bridge between home and school where the educational needs of every child is met. Benefits for joining are, members:
     – Get access to a library for wide range of information.
     – Get to read at least 4 story books in a month in order to write book reports.
     – Go on a field trip during long vacation.
     – Attend an educational play & learn fair to meet other children every vacation.
     – Receive basic IT skills during vacation upon request of parents plus free internet access.
LAB meets weekly for six hours. The primary methods for achieving the objectives of the LAB are:
     – Establishment of community based reading clubs in the Obuasi municipal to encourage the youth to enjoy
reading via play and learn methods.
     – Establishment of a community centre where the socio-physical needs of the youth shall be met through reading,
field trips, sports and social events.
     – Development of a recruitment /training program and supervised practicum for student volunteers.
Ancillary services include health, occupational interest profiling and counselling.
The History of LAB
The Lend-A-Book Club (LAB) is a non-profit organization voluntarily started by Nana Akua Ohene Adu in 2003. It was formed out of a desperate need to encourage the youth to develop the habit of reading early. It targets all children between ages 5 – 18 yrs.
Our aim is to encourage the youth, especially girls to read as much as they can in order to inculcate the reading habit early and become empowered for future leadership in Ghana and worldwide. Our objectives are to:
Develop reading and writing skills
Become creative & develop artistic talents
Gain confidence and self-respect
Love to help the needy, aged and the disadvantaged
Have respect for Adults, the Community, the Environment and 'Time'
LAB's activities is helping to build the bridge between school and home. There are about 500 members. However, our programs impact more than 2000 children in and around Obuasi; Ancillary services include health, occupational interest profiling and counseling. We meet every weekend for six hours in which we do various book related activities; turn in book reports, check out books and discuss current affairs. We usually have play & learn events where activities include spelling drills, various sports and games. These events are participated by both members and non-members who are invited to partake and win prizes.
Occasionally we take field trips to broaden our horizon of Ghana and the world. Some of the places we have toured include: AGA mines, Cape Coast castle, Bonwire Kente, Awhia wood carving, Manhyia palace museum, Kumasi zoo, National Cultural center, Kumasi military museum and Kakum national park. Our programs include: spelling 'B' competition, poetry, proverbs challenge, sex education, health campaign, reading clinic, pen pals, cultural items exchange, student exchange program and all forms of art. These programs improve social and emotional skills and furthermore, occupy the youth such that they are kept away from indulging in crime and other unpleasant youthful acts. LAB has been on-going for more than 15 years. It has been primarily supported graciously by family and friends.
Brief Milestone
Over the years, LAB activities have directly and indirectly impacted more than 2000 children in Ghana. It has chalked many achievements including:
1. Awareness creation and Donations to addulum orphanage
2. Anti-Cholera campaign
3. Sandvik donations (Laptops) – 2012
4. Kwame Nkrumah's Reading clinic attended by all public and private schools in Anyinam-Bidiem townships – 7th Mar 2012 and subsequent years every 6th March.
5. MBC sponsorship of Xmas feista – a 2-day mega event – 2012
6. Art exhibition at Adugyama Town hall – 17th Feb 2013
Motto: Today's reader is tomorrow's Leader
Core values: Self-worth and Self-discipline
Mission: To empower the youth to become future leaders through reading and mentoring.
FAQs
For Teachers/Institutions
Teachers whose students attended LAB have testified that LAB activities make their work easier. Our reading clinics encourage children to research on leaders, culture, science and environment. These widen their scope of thinking and makes their participation in class discussions enthusiastic and competitive. Encourage your students to participate in our weekend meetings as well as occasional events.
Enroll your Child/School
Not many children use their schools' libraries. This may be because books and librarians don't just engage children and children need to be engaged. Schools can take advantage of our group membership registration where they get a chance of starting up a reading club in the school and rejuvenate the use of their libraries. if there is no school library they will receive a batch of books and all the necessary help to establish their very own club where a LAB coordinator would visit from time to time in order to coach and guide them.
Affiliations
The club will be affiliated to the Obuasi municipal Libraries, Obuasi municipal educative directorate and other private organizations interested in the development of the youth and reading.