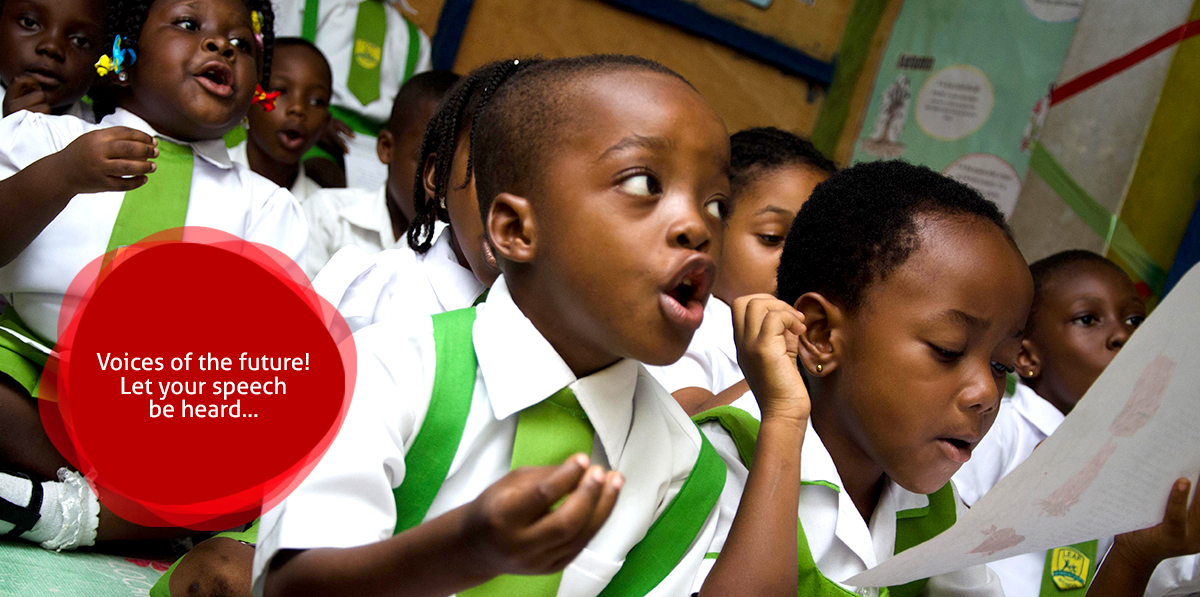 Beginning from pre-school, we assist parents to start working on their Start working on your children's hearts, character, minds and intellect. Start working on your children's hearts, character, minds and intellect.children's hearts, character, minds and intellect using 'seeing is believing' methods. Through the use of themes and engaging activities each child will develop at his/her own pace. For some children this may be a natural progression, for others the skills may take additional time and practice. The following areas are covered in the LEAP schools' curriculum:
Psychic Growth
Love is taught and explained through rhymes, songs, stories, staff exemplary conduct and social events. Our students learn that they are special and uniquely created by God and He loves each of us.
Social, Emotional and Verbal Development
Our students have opportunity to: express their likes, dislikes and needs; complete tasks; wait their turn; play independently and participate in group activities. They learn classroom rules and how to care for class materials. Students are encouraged to express ideas, develop vocabulary and communicate feelings and emotions.
Play/Work Skills
The focus in this area will be on working and playing kindly with one another, trying new things, and increasing attention span. Wide-range play items and playground are available.
Fine/Gross Motor Skills
Fine motor skill areas that are emphasized include copying simple shapes, using paintbrushes, cutting with scissors (plastic), assembling puzzles, coloring and drawing pictures. Gross motor skill areas include running, jumping, climbing, catching, bouncing/ throwing balls, and exhibiting stamina during physical activity.
Personal Development
Out students participate in activities using their full names, age, address and telephone numbers. They are encouraged to take care of themselves by allowing them to feed, clean, use the bathroom, potty train etc. at their right times and with guidance.
Music and Dance Appreciation
Our students have opportunities to listen, sing, explore basic musical instruments, mimic sounds and rhythm; and listen to a variety of music. They are introduced to dance in all forms.
More Curriculum
Art
Arts and crafts activities help our students learn how to draw lines and shapes, recognize primary and secondary colors; and use their imagination to express ideas with various art media including information technology.
Math Skills
Introductory math concepts include counting, using one-to-one correspondence to count objects, number recognition, classifying objects according to attribute, identifying and naming basic shapes. These skills are explored through creative and meaningful activities in order to build a strong foundation.
Science
Through literature and hands-on activities our students learn about the wonderful world around them. Plants, animals, colors and many other science-related concepts are explored daily in class, conversations and projects.
Other languages
French is introduced through games, songs and hands-on activities.
Reading and Writing Readiness
Our students listen to and re-enact various types of stories, explore books through 'pretense'/ real reading, sing and recite songs/poems. They look at pictures and tell a story using details.
Students learn how to print their first names and subsequently have exposure to proper letter formation and directionality. Expressing ideas through pictures and writing is modeled vigorously through phonics and projects.
Reading and writing are enhanced through our resident community-based reading and mentoring NGO (Lend-A-Book club).
Social Responsibility
Parents are always welcomed at the school to observe, ask for feedback on their child's development and interact with our students. Social activities are organized to focus on distinct themes which make children feel valued and that they add value to society. They are taken out to interact with peer, community and public leaders. Educational tours and studies are used to facilitate these social and emotional interactions.
Specific and clear messages are used to set suitable limits for children to behave appropriately and to provide developmental feedback. Children are coached daily to solve their conflicts via a non-threatening approach. While at the school, no child shall be subjected to physical, emotional, sexual or any form of punishment/abuse. Any such suspected abuse by any staff of the school shall be reported to the appropriate quarters.

Note
Quality childhood education focuses on grasping and natural usage of concepts. That is why students in our Pre-K program explore these concepts, but are not required to master them before entering Kindergarten (KG). Children learn these concepts at their own pace. What is learned in Pre-K is considered a "bonus". Our students are taught with hands-on materials, rhymes, songs and games. They are assessed by observation and work samples.
Through the LEAP schools' curriculum, in no time they are able to sing rhymes, use etiquette words/ phrases and recognize the alphabets. They are able to identify their names in print, as well as names of classmates, and identify many upper and lowercase letters, especially as they pertain to names and objects. They are able to sound out short vowel words and read environmental/safety print (i.e. stop, go, exit). From kindergarten onwards they will be able to extensively count, read, write, draw and leap into their futures!